Hmm . . .
I had a reader, Pat, send me an email yesterday regarding the
pink Vogue Couturier #167
dress I made about a year and a half ago. [Note to SueB: This is probably the *only* time you'll see me wearing pink!] Here's the pattern:
Now, Pat's point was this: take a look at Mrs. Bush in the photo below, taken at her daughter Jenna's wedding this past weekend: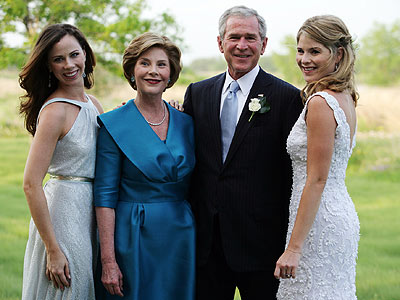 Notice anything similar? Pat noticed the similarities between the pink Vogue and Mrs. Bush's dress, but I also knew I had seen a similar pattern recently and went hunting on eBay for it. I found it, Vogue 4244 from the early 1960's,
currently on auction on eBay.
Please follow the link to see the pattern, I don't have permission to use the seller's photograph, but go take a look. Interesting how fashion seems to have cycles and everything comes around again, isn't it?
Thanks Pat, I probably wouldn't have known unless I saw pictures of the Bush wedding in the newspapers at school!
Parting Shot: 1930's Vintage.
Suzanne
sent me this pattern. She received some patterns when buying some fabric at an estate sale, and this is one of them! Thank you, Suzanne! Check out those sleeves - they've got pointed insets very much like the yoke on the skirt.